Children
Welcome to St. Andrew's Sunday school. Our classes meet every Sunday at 10:00 AM (during the service) throughout the academic school year, from September to June. We currently have 40 children ranging in age from 3 years old through 7th grade enrolled in our Sunday school program.
Children enrolled in St. Andrew's Sunday school learn about God's promises from lessons in the Witness curriculum, which is based on Old and New Testament stories. Children experience their lessons in arts and crafts, interactive lessons with music and many hands-on activities.
Our teachers teach children to read and understand the Bible, follow the church service, prepare for 1st Communion, and appreciate the myriad other gifts that are brought to them through Christ's teachings.
Some other activities that our Sunday school children are involved with include: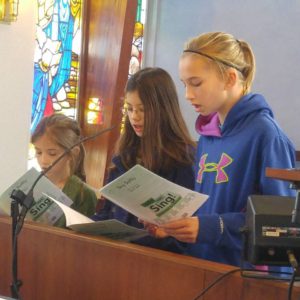 Family Sunday
Sunday School Christmas Pageant
Bring a Friend to Church Sunday
Harvest Sunday
Children's choir
And many, many more…
Sunday School Update for July & August
It's official! Sunday School Awards Sunday has come and gone as we celebrated with the children and their families on a beautiful June day!  It was a great year with the children continuing to grow in their faith! Several new students joined our Sunday School this year so keep inviting your friends because "the more, the merrier!"
As announced on Awards Sunday, we collected a total of $230.50 from the Lenten Banks. The kids worked so hard and the donation will go to Koinonia to help rebuild after the fire. The Sunday School students should be very proud of what they accomplished.
We thanked many people on Awards Sunday but I want to give a special "shout out" to the 7 Sunday School teachers for all of their hard work all year! Jeanna Shepard,  Tracy Blechner, Kristi Tudor, Donna Kellett, Robin Muller, Dorothy Forcina, and Tony Susi give tirelessly all year long to provide the children with superb Christian education.  Without them this program would not be successful so I want to take this opportunity to publicly give my heartfelt thanks for all that they do.  When you see them next time, please be sure to express your gratitude.  We also want to thank Pastor Dave, Margy  Tillistrand, and Diane Testa for all that they do to help keep the Sunday School program alive and well!  Thank you to all!
We are always looking for more people to join our Sunday School staff so please consider volunteering as a teacher, helper, etc. for next year. It's lots of fun and besides sharing our faith with the kids, we also learn from them. We'd love to have you so please give it your prayerful consideration and let me know if you are interested.
As always, please let us know if you have any questions or suggestions. You can reach me via phone at 914-715-9546 or by e-mail at epting.susan@gmail.com or at sundayschool@standrewsyorktown.com.  Have a fantastic summer and remember to attend church as a family even though Sunday School is not in session until Sept.!  Info on Rally Day will be sent to you in August so mark Sept. 9th on your calendar!
God Bless,
Sue Epting