Children
Welcome to St. Andrew's Sunday school. Our classes meet every Sunday at 10:00 AM (during the service) throughout the academic school year, from September to June. We currently have 40 children ranging in age from 3 years old through 7th grade enrolled in our Sunday school program.
Children enrolled in St. Andrew's Sunday school learn about God's promises from lessons in the Witness curriculum, which is based on Old and New Testament stories. Children experience their lessons in arts and crafts, interactive lessons with music and many hands-on activities.
Our teachers teach children to read and understand the Bible, follow the church service, prepare for 1st Communion, and appreciate the myriad other gifts that are brought to them through Christ's teachings.
Some other activities that our Sunday school children are involved with include: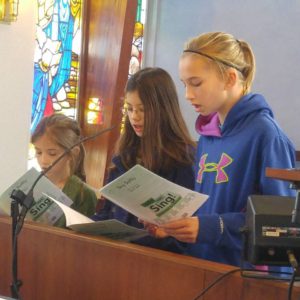 Family Sunday
Sunday School Christmas Pageant
Bring a Friend to Church Sunday
Harvest Sunday
Children's choir
And many, many more…
Children's Ministry Update for January
Sunday School continues to go well and the children enjoyed preparing for and presenting the Christmas pageant on Dec. 17th.  Margy and I chose a new pageant entitled, "The Power of the King," and the kids put on a spectacular performance enjoyed by all!  Many thanks go to all of the Sunday School teachers, Debra Gagliano, and Cindy Clark for the hard work they put into planning and presenting the pageant.  Special thanks to Margy for the musical accompaniment at the pageant and to Pastor Dave for his ongoing support of the Sunday School program. And thank you to Diane Testa for preparing the programs for the pageant and to Rita Nehmzow for hosting the "Birthday Party for Jesus."  Without all of you, this pageant would not have been a success.
And of course, congratulations to all of the children for their wonderful performance! There were a lot of new songs to learn but they did so enthusiastically and were eager to share their joy about the birth of Jesus! It goes without saying that without the support of the parents/grandparents and members of the congregation, the show could not go on so thank you all.
The classes are taking turns decorating the bulletin board in the hallway this year. Please stop by and view their work while enjoying coffee and fellowship after the service.
Since the children attend Sunday School during the 10 AM service, they do not have the opportunity to receive Holy Communion so we are trying something new. Once a month, we will be bringing the children into church to either receive Communion or a blessing from Pastor Dave.  So don't be surprised when you see us show up during the service!
Upcoming dates to remember:
Sunday, Dec. 24th and 31st – No Sunday School; please attend church as a family
Sunday, Jan. 7th – Sunday School resumes; Harvest Sunday
I will continue to send reminders of events via e-mail so please be sure to return your child's "Contact Information Sheet" to the office or your child's teacher at your earliest convenience so we are able to reach you. If you need a new sheet, please let me know.
If your child's box of offering envelopes is depleted, please contact me and I will provide you with a new box. These are not dated so they can be used in successive years until finished.
We are always looking for more people to join our Sunday School staff so please consider volunteering as a teacher, helper, etc. We'd love to have you!
As always, please let me know if you have any questions or suggestions. You can reach me via phone at 914-715-9546 or by e-mail at epting.susan@gmail.com or at sundayschool@standrewsyorktown.com.
Looking forward to seeing you all each Sunday! Merry Christmas and Happy New Year!
God Bless,
Sue Epting