Children
Welcome to St. Andrew's Sunday school. Our classes meet every Sunday at 10:00 AM (during the service) throughout the academic school year, from September to June. We currently have 40 children ranging in age from 3 years old through 7th grade enrolled in our Sunday school program.
Children enrolled in St. Andrew's Sunday school learn about God's promises from lessons in the Witness curriculum, which is based on Old and New Testament stories. Children experience their lessons in arts and crafts, interactive lessons with music and many hands-on activities.
Our teachers teach children to read and understand the Bible, follow the church service, prepare for 1st Communion, and appreciate the myriad other gifts that are brought to them through Christ's teachings.
Some other activities that our Sunday school children are involved with include: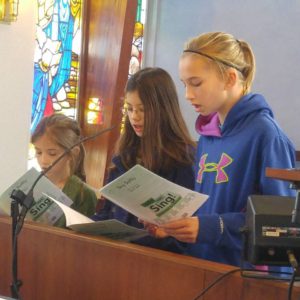 Family Sunday
Sunday School Christmas Pageant
Bring a Friend to Church Sunday
Harvest Sunday
Children's choir
And many, many more…
Children's Ministry Update for April
April Sunday School Update
Despite the recent weather issues, our Sunday School continues with teachers and students finding their way to St. Andrew's each Sunday! Thank you for making the effort and please continue to bring your children to Sunday School each week so they can continue to learn and grow in their faith.
The bulletin board in the hallway has been completed by the 3rd and 4th grade class so please take a few minutes to view their hard work.
The Sunday School students will be singing a special song on Palm Sunday at the beginning of the 10 AM service to celebrate this important season in the church year. We've been practicing for several weeks so please try to attend as the kids love to share their excitement with the congregation!
Please encourage your child to fill up their Lenten box with coins which will then be donated to a church-related children's project. Pastor Dave and I are deciding on an appropriate recipient of the coins and will keep you updated.  We are asking that the boxes be returned to the church office by April 8th.
Upcoming dates to remember:
Sunday, March 25th – Palm Sunday – (will be making palm crosses)
Sunday, April 1st – Easter – No Sunday School – attend church as a family
Sunday, April 8th – Harvest Sunday
Sunday, June 3rd – First Holy Communion for 3rd/4th graders (more info to follow later)
As always, please let me know if you need a new box of offering envelopes and also be sure to update your child's Contact Information Sheet" if you have not already done so this year. It's crucial that we have your e-mail address as that is the method used to communicate important information.
We are always looking for more people to join our Sunday School staff so please consider volunteering as a teacher, helper, etc. We'd love to have you!
As always, please let me know if you have any questions or suggestions. You can reach me via phone at 914-715-9546 or by e-mail at epting.susan@gmail.com or at sundayschool@standrewsyorktown.com. 
Looking forward to seeing you all each Sunday!
God Bless,
Sue Epting