Children
Welcome to St. Andrew's Sunday school. Our classes meet every Sunday at 10:00 AM (during the service) throughout the academic school year, from September to June. We currently have 40 children ranging in age from 3 years old through 7th grade enrolled in our Sunday school program.
Children enrolled in St. Andrew's Sunday school learn about God's promises from lessons in the Witness curriculum, which is based on Old and New Testament stories. Children experience their lessons in arts and crafts, interactive lessons with music and many hands-on activities.
Our teachers teach children to read and understand the Bible, follow the church service, prepare for 1st Communion, and appreciate the myriad other gifts that are brought to them through Christ's teachings.
Some other activities that our Sunday school children are involved with include: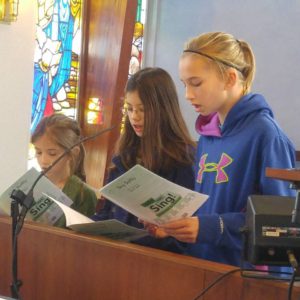 Family Sunday
Sunday School Christmas Pageant
Bring a Friend to Church Sunday
Harvest Sunday
Children's choir
And many, many more…
Sunday School Update for January
The Sunday School children presented another successful Christmas pageant on Dec. 16th! "Counting Down to Christmas" included 5 new songs and all of the children did a wonderful job! The play had many jokes and puns about math which gave the audience a lot of laughs! Thanks to the parents, Sunday School teachers, Margy Tillistrand, Cyndi Clark, Diane Testa, and Pastor for all the hard work helping the children get ready for the program.
Sunday School resumes on Jan. 6th after two weeks off. We hope you enjoyed attending church as a family on those two Sundays.
The following are some important dates to keep in mind for January:
Jan. 6th – Harvest Sunday
Feb. 3rd – Harvest Sunday
As always, the classes take turns updating the bulletin board in the hallway. The current display was done by the 1st and 2nd grade class so please stop by and view the children's art work while enjoying goodies during coffee hour.
I will continue to send reminders of events via e-mail so please be sure to return your child's "Contact Information Sheet" to the office or your child's teacher at your earliest convenience so we are able to reach you. If you need a new sheet, please let me know.
If your child's box of offering envelopes is depleted, please contact me and I will provide you with a new box. These are not dated so they can be used in successive years until finished.
We are always looking for more people to join our Sunday School staff so please consider volunteering as a teacher, helper, etc. We'd love to have you!
As always, please let us know if you have any questions or suggestions. You can reach me via phone at 914-715-9546 or by e-mail at epting.susan@gmail.com.
Looking forward to seeing you all each Sunday as we head into winter! It's only 3 months until spring!
God Bless,
Sue Epting