Newsletter
CHURCH COUNCIL HIGHLIGHTS
Started planning our Stewardship endeavors for 2019.

FALL CLEANUP scheduled for Saturday, November 17. All hands on grass!

Began discussions and planning for celebrating Christmas; yes it's right around the corner.
WE CAN'T WAIT!

Discussed adopting a new funeral policy.

Discussed the book, "From Surviving to Thriving, a Practical Guide to Revitalize Your Church".
CAPITAL IMPROVEMENT FUND UPDATE
Our Capital Improvement Fund is off to a fantastic start. Our congregation has already contributed over $20,000 to the fund. We thank you for your generous support of our efforts to ensure our future financial stability.
Our 2nd Annual Trivia Night in October Was A Big Success!
Our fundraiser for our Capital Preservation Fund was a BIG success! We raised over $1,000. Thirty five people joined us for our 2nd Annual Family Trivia Night. We all shared our knowledge, many laughs and wonderful food!
Thank you to Everyone who came!!
JAN PEEK
VOLUNTEERS NEEDED
The next Jan Peek meal is scheduled for Friday, November 16th if you can help provide a part of the meal it would be really appreciated.
Please contact Sandy Herbst at: sand1313@aol.com or Ellen Ottstadt at:
eottstadt@hmail.com if you would like more information about helping out with our monthly Jan Peek Meals! Thank You!!
YOUTH GROUP
In October, the Confirmation Class went on their annual retreat. This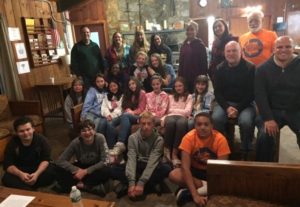 year, 3 of our girls went to Camp Herrlich in Patterson, NY and were joined by 13 other youth from Trinity (Brewster), St. Paul's (Rye Brook) and Trinity (White Plains). Although it wasn't our favorite place Koinonia, the camp was BEAUTIFUL and had many activities for the youth to enjoy. The youth learned about "praying without ceasing" and the different ways that we pray. They also enjoyed Kayaking and Canoeing as well as Archery!
On Sunday, the youth led the worship service and performed songs like "Lord I Lift Your Name on High" and "I Will Call Upon the Lord."
**Check out the photos on our Instagram page at www.instagram.com\LutheranGodSquad
(or on the app @lutherangodsquad)**
Upcoming Events
November 3-4: Third Annual S'moresgiving Lock-In
November 18: Produce Sale Fundraiser for Work Camp
December 2: Christmas decorating @ church
December 14: Annual trip to NYC
January 12: Snowtubing
February 22-24: LYO Jr. High Retreat @ Koinonia
March 15-17: LYO Sr. High Retreat @ Koinonia
April 14: Produce Sale Fundraiser for Work Camp
April 20: Easter Egg Dyeing and set up for Easter Breakfast
April 21: Serve Easter Breakfast
May 4-5: Spring into Spring Lock In
June (Awards Sunday Date): Youth Sunday
July 7-13: Work Camp
Any questions regarding Youth Group, please contact me at Email: standrewsyorktownyouth@gmail.com
Judy Jakubik
BLESSING OF THE ANIMALS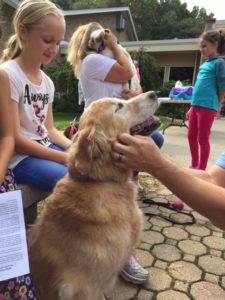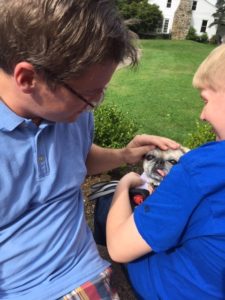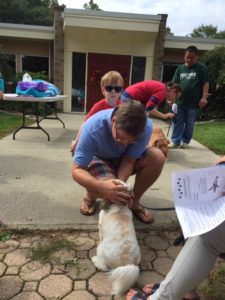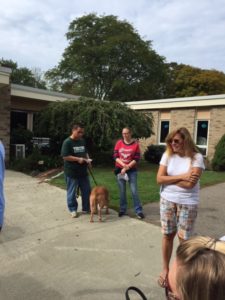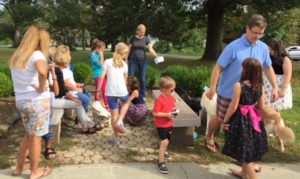 "This is my Father's World"
This is my Father's world, and to my listening ears
all nature sings, and round me rings
the music of the spheres.
This is my Father's world; I rest me in the thought
of rocks and trees, of skies and seas;
his hand the wonder wrought.
This is my Father's world; the birds their carols raise;
The morning light, the lily white, declare their maker's praise.
This is my Father's world; he shines in all that's fair.
In the rustling grass I hear him pass;
he speaks to me everywhere.
SERVICE GROUP
The Service Group is busy planning for our Bake Sale on November 11 between the 8:30 and 10:00 am services and again after the 10:00 am service. ALL proceeds go to the food pantries in our area for Christmas meals. Please support this worthy cause and enjoy some delicious home baked goods! We are also supporting the Holiday Angels program.
St. Andrew's will sponsor one family in our area and purchase items on their Wish List. This is a very worthwhile cause that St. Andrew's has been supporting for at least 20 years. More about this soon.
We meet the first Wednesday of every month. Our next meeting is November 7 when we will make our final preparations for our Bake Sale. We are thinking of holding our December meeting (December 5) at Panera's where we can enjoy a yummy lunch and prepare for our Holiday Angels project. We would LOVE for more people (men and women) to join us!! Hope to see you soon!
Kathy DeMaio and Rita Nehmzow
Co-Coordinators
St. Andrew's Annual 
COATS for KIDS DRIVE 

Extended thru November 30th!   
(we also accept Adult size coats)
We are collecting:
Used (and New) kids coats
Kids Boots (no adult boots)
Gloves, Mittens, Scarves
Warm Sweaters, Vests
Whatever we can collect by November 30th will be taken down to PS 246 in the Bronx and given to children in need. When getting your children ready for the winter with new coats and boots, please consider donating the old coats, boots etc. to keep other children warm this winter… Donations can be dropped off at St. Andrew's Church office. Thank you so much! Please contact Diane at 914-962-9564 with any questions. 
YOUTH CHOIR
Youth Choir meets the last 2 weeks of every month after the 10:00 am service.
All Sunday School aged through Teens are welcome to join us.
Please see Margy for more information.
GUATEMALA MISSION TRIP 2019
June 23 – 30, 2019
Serve alongside the people of San Lucas while you learn about the rich history of this place. This Catholic parish has been partnering with  other Christians to offer a hand up to those living in poverty.
We'll help build housing, process coffee, assist with agricultural development and help reforest devastated lands.
Trip is open to those 18 and older. Please contact Pastor Dave for more information.
 GROUP MISSION SUMMER TRIP 2019 
High School Students -Home Repair Mission Trip
With camps from North Carolina to Texas, New York to Ohio, we will have to determine the best week for travel and choose a location.
Come and learn about this amazing opportunity to help others in need while growing in faith and friendship!   Trip is open to those 18 and older. Please contact Pastor Dave for more information.