Newsletter
C

HURCH COUNCIL HIGHLIGHTS
Montessori School has rented more space in the Chapel House.
We will be sending our monthly Message online starting in January. If you still want to receive it via the Post Office, please contact the office.
New computers and a new copier have been purchased for the office and Pastor Dave.
We have collected $3,000 so far for the Capital Improvement Fund. A special envelope will be provided soon for this purpose.
A big THANK YOU to MICHAEL'S PAVING for repairing the section of the back parking lot by the steps FOR FREE! This eliminated the tripping hazard from a large uneven crack.
SERVICE GROUP
The Service Group prepared and served the meal to Jan Peek residents on Friday, September 21.
A huge thank you to Carolyn Seith, Janis Zaeh, Judy Gordon, Kathy DeMaio
and Rita Nehmzow. Thanks to Bill Nehmzow for helping to serve! We were thrilled to serve over 20 people.
Our first meeting of the year will be Wednesday, October 3 at 10:00 a.m. We will be planning our Christmas Bake Sale and the Lutheran World Relief outreach for the year. See you then!!
Kathy DeMaio and Rita Nehmzow
Co-Coordinators

YOUTH GROUP THANK YOU
Thank you to all those who donated and supported our trip to the ELCA Youth Gathering in Houston, TX. Special thanks to Ellen Ottstadt and William Jakubik for finding the time and taking a week out of your busy schedules to chaperone our 10 youth. Your help was truly appreciated by all the members of this trip.
On July 8th, the youth shared some of their experiences with the congregation during the 9am service. If you were unable to attend the service, below are a few of their memories of the trip.
"The time I have spent in Houston has been one of the greatest times in my life. I am thankful for the opportunity to go and for the congregation in supporting us on our trip. Some of the highlights of the trip was meeting many people. It amazed me how you could start a conversation with anyone because we all had a similarity of being a Lutheran. I even keep in contact with some of the people from all over the US. Seeing 30,000 Lutherans in a stadium also amazed me because around here we are really the only Lutherans. My all time favorite part of Houston was being with friends the whole time and spending time with each other while having lots of fun. After this amazing trip I don't know what could better."- Kenny Reinkraut
"When we first got to Houston, I had no idea what an amazing trip we all had in store for us. On the first official day of the gathering, we had to wait on line in the sun and heat for over an hour to get into NRG Stadium, where all the mass gatherings were held. For a lot of people, this would sound like something that would be miserable, but for me, it wound up being a positive thing because I got to meet new people and realized how fun and easy it was to talk to people attending the gathering from all over the country. Throughout the trip, we would talk to everyone who we were next to on the metro and buses. We'd constantly be joking around with new people and trying our best to make the long train or bus rides the most fun they could be for everyone. Another thing that stood out to me was each mass gathering. I found it so surreal to see 30,827 Lutherans in the same place singing the same songs, listening to the same, powerful words, and believing in the same things. This made me realize that even though we may pronounce some words differently, or have different ways of living, every single person at the gathering was there to come together and learn about the love, grace, and hope God gives us. The gathering made me realize that I wasn't just a part of St. Andrew's Lutheran Church in Yorktown. I was a part of the entire ELCA, along with 30,000 kids who are, at the end of the day, just like me. I was so fortunate to go on this trip because it gave me a new way of understanding God and the people around me that will stick with me forever." –Jenna Grutzmacher
"At the ELCA Houston Gathering there were 30,827 Lutherans. We were all gathered together to celebrate not only our religion but each other. At the Gathering we listened to amazing speakers who all talked about times in their life when they saw God and remember their faith. On the trip we also got to talk with people from all over the country, from east coast to west coast. From Alaska to Florida and even Puerto Rico. It was great to know that we were all there for the same thing. I met so many people and became closer with the people I already knew. We all had such a good time at
this Gathering and that is thanks to the amazing congregation we have here at
St. Andrew's Church. You may not know this, but you came to Houston as well- all of your love and support came with us. So, thanks to the congregation I personally had an amazing experience that opened my eyes to so many new things, I will remember this trip forever. Thank you!"- Sabrina Justo
"One speaker that stood out was a man who was a former Navy Chaplin and high school wrestling coach. He preached about his learning of compassion, saying that it's something that needs to come to focus for all of us throughout our daily lives.
In his speech, he discussed how he previously would pass on speaking to the troubled people he worked with, and attempted to pass the burden to others.
I felt that his speech inspired the 30,000 youths in attendance because of the mission we had planned for the week. It was a turning point in our trip because it brought the realization of why we went to Houston. Because that city devastated by homelessness and destruction by Hurricane Harvey begged for our compassion.
While many people often donate money to those relief causes and fundraisers, we shortly discovered that there is nothing more valuable than giving your time and effort.
I'd like to thank the congregation and everyone who made this trip possible for giving us the opportunity to utilize our compassion."- Jon Justo
"Each day in Houston we learned about God's call, God's love, God's grace, God's hope and Jesus. During these days we were able to see how God is always with you especially in times of need. Something that really impacted me was each night at the mass gatherings when speakers told us about the struggles in their lives that they have experienced or are still experiencing. The speakers continued to have hope and fight because they knew God was with them and used their experiences to help other people struggling with that same problem. Not only did we learn about how God was able to help them, but we also realized how lucky we all are and to be thankful for how much we have. In addition, we also learned to step outside of our comfort zone to help others and to make others laugh. I am extremely fortunate to have experienced this amazing trip with some of my best friends and amazing chaperones. We all have become even closer than before and I can't wait to make even more memories with everyone! Houston was an amazing trip and definitely something I will never forget." –Dana Grutzmacher
YOUTH GROUP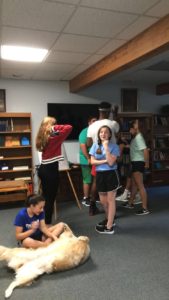 At the Welcome Back Lock In 2018, the youth talked about what they are passionate about, and how they can use their passions to serve the community. (Check out the poster board outside of Pastor's office.) They played new games like "Do you know your neighbor?" and old games like Sardines…for 2 hours! Special guest, Nugget joined us for the night and is now officially named the God Dog.
2018-2019 Youth Group Events
October 19:    Family Trivia Night
November 3-4:    Third Annual S'moresgiving Lock-In
November 18:    Produce Sale Fundraiser for Work Camp
December 2:    Christmas decorating @ church
December 14:    Annual trip to NYC
January 12:    Snowtubing
February 22-24:    LYO Jr. High Retreat @ Koinonia
March 15-17:    LYO Sr. High Retreat @ Koinonia
April 14:    Produce Sale Fundraiser for Work Camp
April 20:    Easter Egg Dyeing and set up for Easter Breakfast
April 21:    Serve Easter Breakfast
May 4-5:    Spring into Spring Lock In
June (Awards Sunday Date):    Youth Sunday
July 7-13:    Work Camp
For more information go to https://www.pinecrestllm.org/     
   Judy Jakubik
St. Andrew's Annual
COATS for KIDS DRIVE
(we also accept Adult size coats)
We are collecting:
Used (and New) kids coats
Kids Boots (no adult boots)
Gloves, Mittens, Scarves
Warm Sweaters, Vests
Whatever we can collect by October 31st will be taken down to PS 246 in the Bronx and given to children in need. When getting your children ready for the winter with new coats and boots, please consider donating the old coats, boots etc. to keep other children warm this winter… Donations can be dropped off at St. Andrew's Church office. Thank you so much! Please contact Diane at 914-962-9564 with any questions. 
Coats for Kids Drive message 2018
2nd Annual 
TRIVIA  NIGHT 
October 19th 6:30 pm
A fundraiser for our Capital Preservation Fund. Join us for our 2nd Annual Family Trivia Night. Fun, Facts and Food! Bring your favorite food or desert we will all share our knowledge, many laughs and wonderful food. Everyone is welcome!
Blessing of the Animals
Sunday, October 7th
2:00 pm
Donations for Animals Gratefully Accepted:
Cat / Dog Food
Treats
New Toys
Cat Litter
Gently used: Sheets, Blankets, Towels,
Pet beds…
Shelter Donations Collected at: Blessing of the Animals
JAN PEEK VOLUNTEERS NEEDED
Please contact Ellen Ottstadt  or Sandy Herbst if you would like more information about helping out with our monthly Jan Peek Meals. Thank you! 
ST. ANDREW'S CHOIR   "HELP, We Need Singers!"
We meet  Wednesday Nights at 8:00 pm for practice and Sundays to sing. All voices are welcome! Please see Margy for more information.
GUATEMALA MISSION TRIP 2019
June 23 – 30, 2019
Serve alongside the people of San Lucas while you learn about the rich history of this place. This Catholic parish has been partnering with  other Christians to offer a hand up to those living in poverty.
We'll help build housing, process coffee, assist with agricultural development and help reforest devastated lands.
Trip is open to those 18 and older. Please contact Pastor Dave for more information.
 GROUP MISSION SUMMER TRIP 2019 
High School Students -Home Repair Mission Trip
With camps from North Carolina to Texas, New York to Ohio, we will have to determine the best week for travel and choose a location.
Come and learn about this amazing opportunity to help others in need while growing in faith and friendship!   Trip is open to those 18 and older. Please contact Pastor Dave for more information.