Newsletter
CHURCH COUNCIL HIGHLIGHTS
Lent and Easter services were planned.
The Youth Group will hold a produce sale on March 25 to raise money for their trip to Houston.
Spring clean up is scheduled for April 14.
The Battle of Yorktown is April 21.
An "AV Club" will be formed to assist in creating the slides used during Sunday services. Please let pastor know if you can help.

Marriage Sunday
On February 11th St. Andrew's celebrated Marriage Sunday with two couples renewing their wedding vows:  
Ron & Kim Guerra October 10, 1998 –  20 years
Dorothy & Anthony Forcina April 9, 1988 – 30 years
Congratulations!!
SSC Sisters Serving Christ
The SSC sponsored a Shower, February 18th after the 10:00 am service, celebrating baby Elizabeth Dockweiler's birth. We provided sandwiches, soft drinks and cake for all !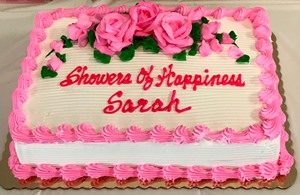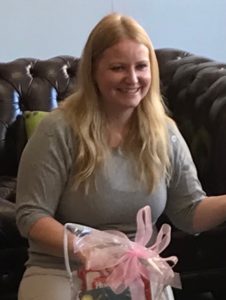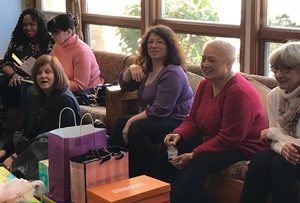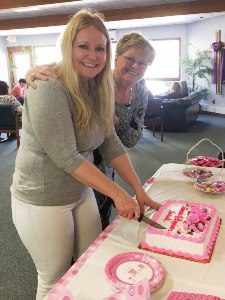 YOUTH GROUP
In February, the Youth Group held their 2nd Annual Marriage Sunday Bake Sale.  Even though it was a gloomy day outside, inside our church was bright and joyful and filled with yummy treats!  Thank you to all who purchased a baked good or made a donation supporting our trip to Houston!
Upcoming Events:
March 16-18  LYO Sr. High Retreat to Koinonia  Cost $120
March 25     GOD SQUAD SIGHTING: Baby Elizabeth Dockweiler's Baptism
March 25     PRODUCE SALE after the 10am service
ELCA Youth Gathering News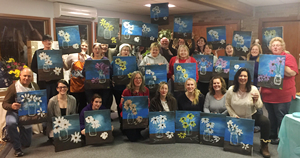 The Paint & Sip was a HUGE success with 26 people in attendance!  It was amazing and beautiful to see how we were all painting the same picture, but they all turned out so differently.  Everyone got to use a little bit of their imagination to create their very own individualized masterpiece.
Save The Date:     April 21  Make your own Pizza Night!
Any questions regarding Youth Group, please contact
Email: standrewsyorktownyouth@gmail.com
Judy Jakubik
BUY A MILE CONTINUES
As we continue our BUY A MILE program to help us raise the airfare for the ELCA Youth Gathering we have only been able to get to New Jersey! We need your help in getting the rest of the way to Houston and back. There are 11 youth and either 2 or 3 adults from St. Andrew's that are attending next June 26 thru July 2. This will be our third time sending youth to these gatherings and each time we have reached out to our congregation and you have answered. We are looking to raise the total cost of our airfare of $5,250 to get us there and back. Each mile is costing us $3 and we are hoping that each one of you would buy a couple of miles to help us complete our goal. This is not just limited to our congregation as anyone can donate. Ask your families and friends to help us get to Houston! If you have any questions please see Judy, Ellen or Margy.
As always we are blessed to have you to help us with this amazing journey!
WELCOME TO THE WORLD LITTLE ONE !                   
Aksel Orion Doerr
He was Born: December 26, 2017
Proud Parents: Michelle & Robert Doerr
JAN PEEK
On February 16th St. Andrew's provided a meal for our neighbors at Jan Peek. Thank you to everyone!
Kathy DeMaio – the Main dish –fried Chicken
Sonja & Angelo Letizia – Cold cut platter & Bread
Sherri Headley – Pasta Salad
Rita Nehmzow – Desert
JAN PEEK VOLUNTEERS NEEDED
Please contact Margaret Hauck if you would like more information about helping out with our monthly Jan Peek Meals.  Thank you!      Margaret: #908-305-2290
WEDNESDAYS SOUP SUPPER & LENTEN SERVICES
March 7th –   Soup & Bread at 6:00 pm
Lenten Service 7:00 pm
March 14th – Soup & Bread at 6:00 pm
Lenten Service 7:00 pm
March 21st – Soup & Bread at 6:00 pm
Lenten Service 7:00 pm