Newsletter
C

HURCH COUNCIL HIGHLIGHTS
Employer Matching Contributions Programs
Did you know your employer may have a program that would match your contributions to St. Andrew's? Thousands of companies have a matching contributions program, and you may not know your employer has one.  One of our members has joined their employer's program, and their employer has already sent us $800.  So please look to see if your employer offers this type of program, and if you decide to sign up, please consider your church as the beneficiary.
A Big Thank You to Steve Scalzi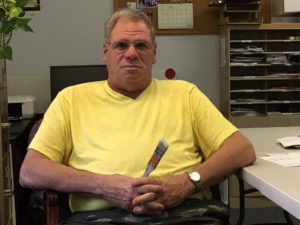 Between the Church and the   Chapel House, our St. Andrew's Summer projects have kept       Steve Scalzi VERY busy!   Sanding, scraping and painting just about everything in sight – over 14 different projects and still going!  We just wanted to give a shout out to thank you Steve – your hard work is very much appreciated!
SERVICE GROUP
Welcome back after what we hope was a restful Summer!
Instead of our usual September meeting, we will be preparing & serving the meal for
Jan Peek on September 21st.  We will need Entrees, Veggies, and Deserts.
Please let Kathy or Rita know what you can bring to the table. Thank you!
Kathy DeMaio and Rita Nehmzow
Co-Coordinators
YOUTH GROUP
The Youth Group started off their summer in Houston, TX at the ELCA Youth Gathering.  They enjoyed listening to speakers who inspired, music that uplifted, and made friendships to last years to come.  During their service day, they learned about the dangers and realities of human trafficking and raised awareness on the Houston University campus.  The God Squad had a blast exploring the city of Houston and meeting people from all over the country (especially Minnesota!)  Please, stop and ask our youth how their trip was.  They are so grateful for all the donations that made this amazing experience a reality.  Check out photos on our Instagram page @LutheranGodSquad
2018-2019 Youth Group Events
August 26: Parent/Youth Meeting
September 15-16: Welcome Back Lock-In
October 19: Family Trivia Night
November 3-4: Third Annual S'moresgiving Lock-In
November 18: Produce Sale Fundraiser for Work Camp
December 2: Christmas decorating @ church
December 14: Annual trip to NYC
January 12: Snowtubing
February 22-24: LYO Jr. High Retreat @ Koinonia
March 15-17: LYO Sr. High Retreat @ Koinonia
April 14: Produce Sale Fundraiser for Work Camp
April 20: Easter Egg Dyeing and set up for Easter Breakfast
April 21: Serve Easter Breakfast
May 4-5: Spring into Spring Lock In
June (Awards Sunday Date): Youth Sunday
For more information go to https://www.pinecrestllm.org/     
   Judy Jakubik
JAN PEEK VOLUNTEERS NEEDED
Please contact Ellen Ottstadt  or Sandy Herbst if you would like more information about helping out with our monthly Jan Peek Meals. Thank you! 
ST. ANDREW'S CHOIR   "HELP, We Need Singers!"
We meet  Wednesday Nights at 8:00 pm for practice and Sundays to sing. All voices are welcome! Please see Margy for more information.
GUATEMALA MISSION TRIP 2019
June 23 – 30, 2019
Serve alongside the people of San Lucas while you learn about the rich history of this place. This Catholic parish has been partnering with  other Christians to offer a hand up to those living in poverty.
We'll help build housing, process coffee, assist with agricultural development and help reforest devastated lands.
Trip is open to those 18 and older. Please contact Pastor Dave for more information.
 GROUP MISSION SUMMER TRIP 2019 
High School Students -Home Repair Mission Trip
With camps from North Carolina to Texas, New York to Ohio, we will have to determine the best week for travel and choose a location.
Come and learn about this amazing opportunity to help others in need while growing in faith and friendship!   Trip is open to those 18 and older. Please contact Pastor Dave for more information.