To all the Faithful at St. Andrews,        
     God's Blessings! What a crazy couple of months! I can hardly believe that it has been nearly 90 days since we gathered in the sanctuary. I am so thankful that those families who have been in direct contact with Covid 19 or have contracted the disease you have remained healthy. My utmost prayer is your well being. Please continue to practice social distancing and wear your masks. We can overcome this pandemic if we work together. I want to say thank you to those who donated towards some products we needed to launch our outdoor service. They all asked for anonymity, so you know who you are, THANK YOU! We purchased a substantial portable PA system and an additional pop up tent. These items will be used not only for our upcoming worship services but future events as well. Outdoor Worship Details Our schedule is changing (and I hate changing the worship schedule). Our online Zoom service will move to 9am beginning July 5. There will be a new link and password sent out the week before. The old link will not work. July 5, 12, 19, 26,  Aug 2, 9,16, 23, we will host an outdoor worship service at 10:30. The outdoor services will be held in front of the church. Social distance is required and because we are outside masks are encouraged. You can bring a blanket or stadium chair and sit in the grass or you can remain in your car. Assume that the building will not be open and the bathrooms will not be available. Communion will take place with prepackaged cups and wafers you will pick up from a central no-contact table. The service will be simplified. A worship bulletin will be sent to you via email that you can print off or read on a digital device that you bring with you. The fewer things we put into your hands the safer. Pray for good weather, if cancellation needs to occur due to weather notification will go out by email and be posted on our Facebook page. Indoor Worship Plans I say "plans" because these are all dependent on regulations that reflect a constantly changing situation. On August 30, we hope to gather again in our sanctuary. Wearing masks will likely still be required and social distancing will take place via designated seating. The time has not yet been set. Continued Online Worship          
   Our Zoom worship at 9am will continue for the foreseeable future. Our community has grown in unexpected ways during the pandemic. Each week we gather online and lately we have regularly had upwards of 60. People in many states have been joining, friends and family who moved away years ago are joining. We have no intention of breaking this new community up simply because our physical doors reopen. As we pray and hope to reconnect in person we will do only when safe. We will do so in ways that are responsible for ourselves and all in this community. I miss you and am excited to return to in-person worship. I am also proud of you, for taking your faith practices outside of these walls to show and share the love of Jesus Christ to those you know, work with and share your lives with.
See you on Sunday,  Pastor Dave  
Outdoor Worship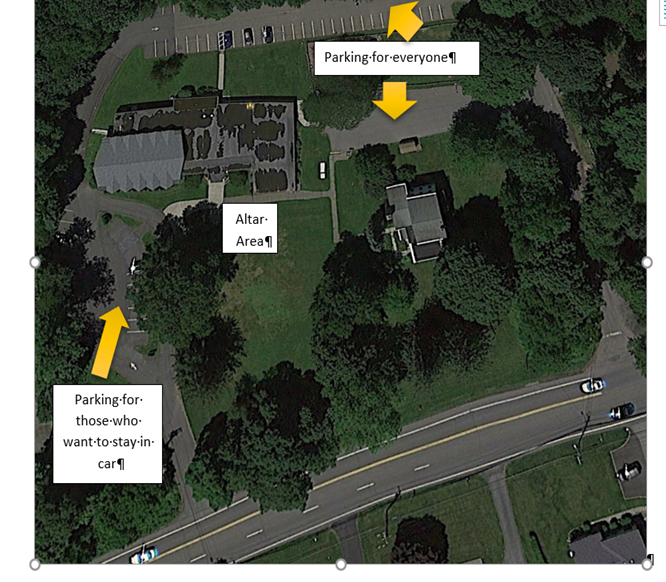 For our outdoor services the front parking lot is reserved for persons who desire to remain in their vehicles. All others, please use the upper parking lot near the chapel house or the back parking lot and walk to the front lawn area. Our sound system should cover this area nicely. Please remember, the building will NOT be open and bathrooms NOT available.
Circles have been painted in the grass indicating seating areas at least 6 feet from any other. Walkways have also been painted on the grass allowing for one way traffic to all parts of the grass (like the markers at the grocery). A simplified bulletin along with two communion cups will be placed in each circle by a masked and gloved volunteer before the service begins. If you need additional communion cups they will be available on a self serve table. If you are remaining in your car notify an usher and communion supplies will be provided. A collection box will be placed in a central location to receive your offerings or you can give online by clicking HERE.
Kids must stay with parents at all times. The playground will be available but masks must be worn.
Social distancing is required mask wearing is encouraged.
From Pastor Dave Dockweiler- Mini Church, an online shorted addition of service, is now available.
Work and Pray
Lets Talk About Fear
To make a paper crane visit this video, or search for another. https://www.youtube.com/watch?v=Ux1ECrNDZl4&t=19s
See you on Sunday, Pastor Dave
Our Mission Statement
"Inspiring Change by Following Jesus."
Inspiring change by following Jesus is why this place exists, why this community meets and what we are set on doing.
INSPIRING The angels inspired the shepherds to run to see the new born Jesus, the Spirit inspired the disciples to march with purpose out of the upper room where they were hiding after the death of Jesus and throughout the ages people have been inspired to share their faith with others. Through this inspiration people have been moved with compassion and it is the fuel that moves the church. "Inspiring" also is a means of how we are to function. We don't use fear to scare others into faith (we know that doesn't work) we show them what God has done in our lives and we invite them to wonder about what God can do in theirs. Being inspired to do something new is invitational, just like Jesus.
CHANGE Something is out-of-whack in our world, in our communities and within ourselves. One of the founders of the church, the Apostle Paul, wrote that he doesn't understand what he does, and he does the stuff he hates. Change is hard, it takes time and tons of effort to redirect our efforts at times. We read countless stories in the Bible of Jesus meeting people in the most random places of their lives and offering them something far better. Physical, spiritual and mental healing, reconnecting someone with their community, lifting those that have been ostracized by others-Jesus brings change and we welcome God's changes in our lives.
BY Here is how this inspired change is going to happen. Spoiler alert, it isn't because of what we do.
FOLLOWING Jesus asks his disciples to leave their comfort zones. They walked away from jobs, family, friends, a life that they knew-to follow Jesus into one where they didn't know much, except for the Rabbi. "Following" admits that we don't know exactly where we are headed or how to get there. It is an act of humble worship and great trust to allow Jesus to lead our community and our lives.
JESUS Our leader, our rabbi, the one who has come into our lives and invited us into something greater. God's dreams are better then our own, God's vision for our lives is far more colorful and fun than we could imagine, so come join us in following our amazing God into a world we hardly knew existed.
Well that's all good and nice, but how do we actually do it? There are three values that we uplift which will make our missional goal a reality.
First, we "worship to deepen our connections." Using the cross itself as an example, we worship to connect with God (the vertical) and we worship alongside each other to connect with one another (the horizontal). If our worship doesn't bring us closer to God or others, than we are doing something wrong.
Secondly, we value "education to challenge our understanding of God." Growth always means some level of discomfort, and we welcome the challenge of seeing God in new ways. We need to push ourselves to see God in places and faces that we would have overlooked without becoming aware.
Lastly, we do what Jesus did. "Service with others to change the world." Jesus often brought people into his miracles to change the world around them. Changing the world is a big job but doing so means that we begin with God changing our world. We invite God into our lives to give us a glimpse of what God is up to, and what we are being invited into and we join together to get to work making God's kingdom show up on earth.